By Michael Kachitsa
The 1950 World Cup final – Brazil versus Uruguay. The event most commonly remembered for the huge upset – dubbed Maracanazo – is also remembered for hosting the highest number of people in a football game. 
The official attendance is listed at 173,850 tickets sold, but unofficial estimates claim that almost 210,000 people were in that stadium. Ticket policies and safety concerns were a little more reserved in 1950 than it is today. This was taken full advantage of, and people managed to cram in and fill the stadium more than was maximum capacity. 
Stadium disasters since 1950 have seen a shift in public perception of safety and has helped enforce stricter regulations on match-going crowds. The colossal crowd seen on that fateful day will never be possible again.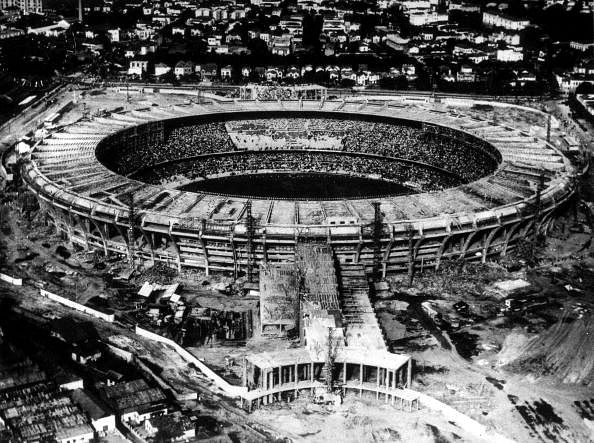 The 1950 World Cup was the first since the end of the Second World War, and the first to feature a British team. Nevertheless, British media coverage of the tournament was sparse, despite the participation of England. (Scotland had also "qualified", but the Scottish FA declined to participate.) Newspapers relied on short news agency dispatches, and radio provided only brief reports of England's matches, presented by Charles Buchan, the former England center-forward. There was no British television coverage. Perhaps that was a blessing in disguise.
The final match was played on July 16, 1950, at the Maracanã, the design of which incorporated a moat around the oval playing field "to protect players from crowds". The Maracanã surpassed Scotland's Hampden Park to become the biggest football ground in the world, and also beat Hampden's 149,407 attendance world record (set in 1937) after 152,722 fans paid to see Brazil defeat Spain in the previous round.
That record was beaten again at the final when at least 173,850 saw Brazil lose to Uruguay. This was the official attendance figure, although some sources, including those used by Wikipedia, give the attendance as 199,854. It has been estimated that the actual attendance for the decisive final game, taking into account officials, journalists, police, and ticketless fans, was likely in excess of 200,000. But it is the official figure of 173,850 that is recognized by Guinness as the world record (while Hampden Park's 149,407 remains the British and European record). And there is no dispute whatsoever that the crowd at the 1950 World Cup final was the biggest that football has ever seen.